I love candles just like most women! So when the owner and maker of aromas and scents contacted me to review her lovely soy candles. I of course said YES! So I received my soy candle in Apple Harvest and Let me tell you the scent is DIVINE! , Before I have the chance to open the package I could smell this outside of it!. I lit the candle and let it burn the 4 hours at first like recommended to it will burn evenly! The soy candle burns even and still smells great! I love this concept as opposed to the normal wax candles! It is a very nice tin that the candle is in. Great for travel or moving the candle form place to place in your home. These Candles are very well made and at a GREAT price too! Her etsy shop has a list of scents as well. She also sells tarts for your electric or tea light burners. I would definitely recommend aromas and scents to everyone who loves candles!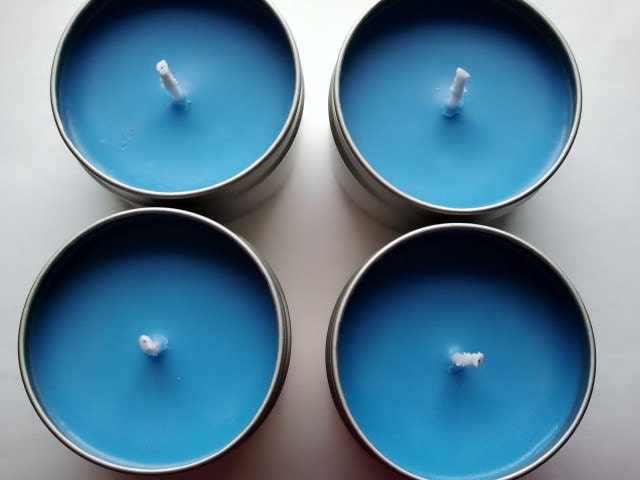 About The Owner!
Hello I'm Toynga,and Welcome!
Candle Making is something that I enjoy doing & it brightens my day every day.I love when my customers pick my candle up and say this makes me hungry it smells so good.
I started my Candle Making Business as a Hobby but quickly wanted to share them with the World as I purchase all high quality ingredients and materials to make my Candles the best.
I pride myself on creating the finest scented candles available on the market today. Our hand-crafted candles are made from the highest quality soy wax & premium fragrance oils most or all are infused with Natural Essential oils and the scent will state if any different, I use eco-wicks (Cotton wicks) which are wicks that put off no soot and to give you all all natural Eco-friendly soy candle.
What are Soy Candles? Soy candles are made from soy wax, which is hydrogenated soybean oil
My Soy wax is mixed with high quality fragrances that's infused with natural essential oils to produce my High Quality scented soy candles.
Advantages of soy candles
Soy candles have to following advantages compared to paraffin wax candles:
Soy wax is a new alternative to paraffin wax that is cost effective. Soy wax is also made from a renewable source
Soy wax is natural - Soy wax is a favorite of environmentally conscious people because it is made from a renewable source and is not made from petroleum.
Soy candles last longer
Wax spills are easy to clean - It's very difficult to remove paraffin wax from furniture or textiles. Soy wax spills can easily be cleaned up with hot soapy water.
Soy candles produce less soot - Soot should be avoided because it is very unhealthy and can eventually coat furniture and walls. Soy candles produce about 90% less soot than paraffin candles.
We use only the best ingredients to ensure that our candles will burn longer and cleaner with a superior scent throw for the ultimate candle burning experience.
My Candles are proudly hand-poured & handcrafted in Mississippi & are available in a variety of scents, sizes, styles and prices.
Browse our candles & crafts to find the one that is right for you.
We also accept Custom Orders on any day.

**Disclaimer**
I was not paid in cash for this posting.
I did receive free product for my opinion.
Read more of my disclosure HERE